📰🌿CBD Daily NEWS
Subscribe to posts
The UK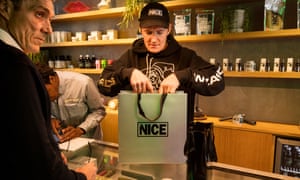 Howard Marks made his name in the illicit drugs trade but the late drugs baron is making a posthumous comeback to cash in on a booming legal trade in cannabis-related products. Borrowing his most famous alias, the first Mr Nice store opened in London's Soho district on Thursday, selling everything from upmarket bath bombs and face creams to hoodies inspired by Britain's best-known drug smuggler.
---
The UK... The CBD Store has a new address in England 
---
Bend Oregon
Bendis says that in his prophetic slumber, he imagined the cannabis beverage section as "every bit as plentiful as craft beers." When he woke up the next day, he called his son, Max, and the two drafted plans for a new cannabis beverage company: 
Ablis
.
---
China Hemp Seeds - Virginia  grown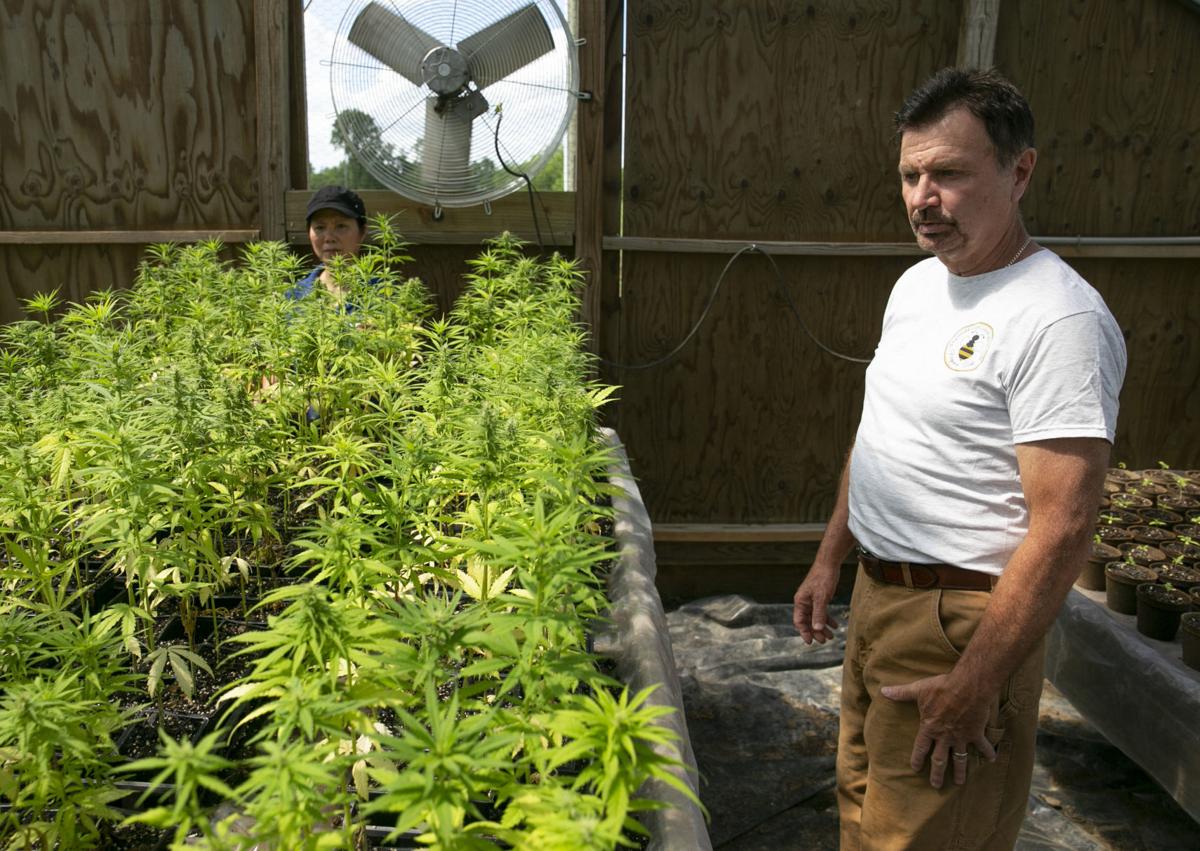 Fredericksburg.com
A few years ago, Bill Pickett was in the mountains near Bama Yao in southwestern China, picking wild hemp seeds with a 90-year-old resident.
Residents of Bama Yao—which is near where Pickett and his wife, Bixia, own a second home—have a life expectancy of over 100 years. As of 2013, there were 81 centenarians living there. Part of the reason for this longevity, Pickett said, is that hemp seeds are a regular part of the villagers' diet. "They steam them and make them into a porridge," he said. "They say hemp originated in that region." Pickett suspects that the seeds he picked on that trip came from plants that were 4,000 to 5,000 years old. "They haven't been stepped on a lot," he said. "There's a purity." He hopes that purity comes through in the cannabis sativa plants now growing at Cool Water Farm, the Caroline County property that has been in his family for 100 years. He developed the proprietary strains he grows—which he calls Virginia Gold and Cool Water Cherry—through open pollination of several hemp varieties, including the ancient Chinese strain, and harvested his first salable crop last August.
---
LANCASTER  California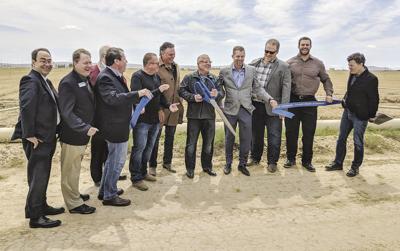 Antelope Valley Press
SoCal Farms could not do what it is doing without the assistance of state Sen. Scott Wilk, who wrote Senate Bill 1409, which streamlined industrial hemp production rules to become compliant with federal law. 
100 TEST ACRES PLANTED APRIL 24TH, 2019 
SoCal Farms LLC company officials and state and local leaders cut the ribbon to celebrate the company's industrial hemp farm Friday morning in eastern Lancaster. The company partnered with Antelope Valley College to conduct a research project on the crop.
---
---
Scott Salisbury 
Founder of LinkedIn Group CBD Health and Wellness
3-year compilation of The CBD Store's Daily News 
---
Germany/Oregon 
Vancouver, BC / 
TheNewswire / 
May 17, 2019 -- 
GLOBAL HEMP GROUP INC. ("GHG" or the "Company") (CSE: GHG / OTC: GBHPF / FRANKFURT: GHG) 
is very pleased to announce that its subsidiary, Covered Bridge Acres Ltd. (CBA), has entered into a contract with Richardson Gap Farm LLC (RGF) to extract cannabinoids from all of the hemp biomass produced at the Company's Scio Oregon hemp farm. CBA is the operating company for the project, a 50/50 joint venture with Marijuana Company of America, Inc. (OTCQB: MCOA).
---
The contract with RGF will process the biomass into CBD distillate. The output would then be split on a 55/45 basis, with 55% going to CBA. Based on the results from a recent test run by RGF, CBA's 55% share of the distillate produced is expected to be 400 to 500 kg. CBA is currently selling distillate produced from earlier test extraction runs for US$4000 - US$5,000 per kg. The initial supply of biomass has been delivered to RGF and processing is expected to begin within the next 2-4 days.
In addition, RGF is currently converting 16 kg of CDB crude oil produced from the various test runs with other processors to distillate, on a 20% tolling basis. The final product is expected to be delivered to CBA earlier next week.
---
The Irish Times
Much of the confusion stems from the various laws and regulations concerning such products in Ireland. Under EU regulations plants containing CBD may be grown as long at their THC content (the psychoactive component) is less than 0.2 per cent. The Common Agricultural Policy (CAP) even subsidises production in some countries.
In Ireland cannabis or hemp may be grown as a food product under the same conditions. However under the Misuse of Drugs Act 1977 all derivatives of cannabis and hemp containing THC are illegal, even if they contain only trace amounts.
The Department of Health says it hopes to amend the legislation to explicitly permit CBD products like those seized in recent weeks.
"Since hemp is still part of the Category 5 narcotics list, because it contains a high volume of cannabidiol [CBD], we cannot let farmers grow hemp as yet. However, once the three-year trial is completed by the end of next year, we will reconsider allowing private firms to grow hemp as a cash crop," Niyom said.
"Seed to shelf is the way we like to think of it," said Fowlkes. Blühen's one-of-a-kind hemp cafe sells their hemp and CBD products, including capsules, sprays, vapes, pre-rolled hemp flower, and dried hemp flower. A cafe serves hemp infused foods and drinks, or you can add a boost of just CBD. A meeting space in the back is for concerts, yoga classes and other events. It's all happening under the lights of the indoor hemp farm.
---
Montana
MISSOULA – A company that specializes in making hemp products is joining forces with a Missoula business to create jobs and grow its business. The Socati Corporation announced earlier this week that it acquired Blue Marble Biomaterialsand will use its staff of scientists to make hemp oils and extracts. Socati is known as a leading processor of broad-spectrum hemp extracts like CBD oil.
---
Socati is the most advanced producer of THC-free 

broad spectrum hemp extract

. We combine expertise in seed genetics, proprietary extraction techniques and the most efficient purification systems available today to support the production of CBD infused products at global manufacturing scale. By integrating the entire supply chain, Socati is your partner in delivering to one of the most lucrative new product categories in history - non-psychoactive cannabinoid infusion.
---
Washington Times-Reporter
---
Oregon 
Revise sampling procedures for pre-harvest THC testing; changing from solely delta-9 THC to total THC (THCA converted to delta9 and delta9 THC) in anticipation of USDA requirements; effective 2020.
---
Scott Salisbury 
Founder of LinkedIn Group CBD Health and Wellness
Indy Car racing Team 
CBS 4 Indianapolis
INDIANAPOLIS, Ind. – An IndyCar Series team is tapping into the developing CBD industry for sponsorship money.
DEFY performance drink is partnering with Arrow Schmidt Peterson Motorsports to have its name on James Hinchcliffe's and Marcus Ericsson's cars for the Indianapolis 500 and rest of the IndyCar season.  The company was co-founded by Pro Football Hall of Famer, Terrell Davis.
---
Rugby Team 
The Wolfpack say they are the first pro sports team to enter the CBD-infused products marketplace. The first product is a CBD-infused topical cream called Rugby Strength, designed to "combat acute aches and pains." It will hit the market "in the coming months."
---
The brand? Plus CBD. The CBD Store sells Plus CBD. The CBD Store is also an investor in their stock. 
CV Sciences, Inc. 
(OTCQB: 
CVSI
), a preeminent supplier and manufacturer of hemp cannabidiol (CBD) products, recently announced that its industry-dominating PlusCBD Oil
™
 products were used in the first study to date examining the clinical benefit of CBD for the treatment of Post-Traumatic Stress Disorder (PTSD). The study, published in 
The Journal of Alternative and Complementary Medicine
in 
April 2019
, 
examined the effect of oral CBD administration on symptoms of PTSD in a series of 11 adult patients at an outpatient psychiatry clinic. CV Sciences provided various PlusCBD Oil products for the study; delivery systems and usage were determined by patient and provider preference. The published study can be viewed at the following link: 
Cannabidiol in the Treatment of Post-Traumatic Stress Disorder: A Case Series
. CV Sciences was not involved in the data collection, data interpretation, the preparation of the article, or the decision to submit for publication.
---
PRNewswire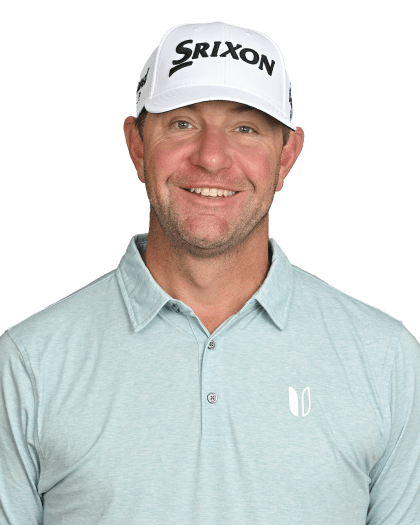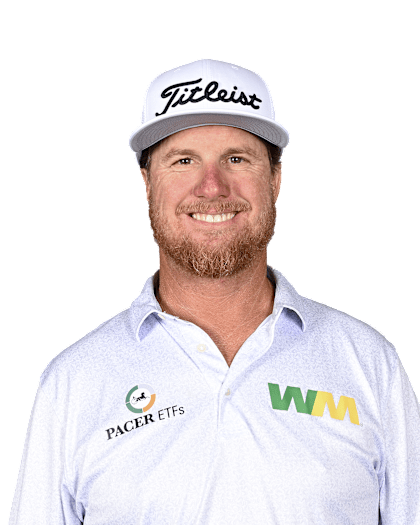 Tucson Arizona 
134 Kilograms of Isolate on the ground in Nevada. $4,900.00 per kilo.  Call Scott Salisbury 253 221 9051. 
Fence Post
Senate Majority Leader Mitch McConnell, R-Ky., is trying to convince Congress to include a provision in the supplemental disaster aid bill that would force the Agriculture Department to develop crop insurance for hemp in 2020, but a Kentucky state official said Wednesday that USDA would not be able to develop a regular crop insurance policy for the 2020 crop year. At a briefing on hemp sponsored by the National Association of State Departments of Agriculture, Keith Rogers, chief of staff in the Kentucky Agriculture Department, said he has had many conversations with McConnell about the crop insurance issue. Crop insurance is a "tremendous issue" for hemp growers, Rogers said, but it would be "impossible" for the Agriculture Department's Risk Management Agency and crop insurance companies to come up with policies by 2020.
Greensboro News & Record
---
Price Gouging in the world of Hemp Flower 
---
The CBD Store 
---
Kindly 
Scott Salisbury 
Founder of LinkedIn Group CBD Health and Wellness
One product - by 
Ananda Hemp
 - contained levels of lead so high, it exceeded by 100-times what the EPA would consider actionable for drinking water.
---
Yahoo Finance
Eastside Sampling CBD Beverage in Oregon
The Outlandish lineup of ready-to-drink (RTD) cans will initially include three primary products: a seltzer-based, a ginger-based, and a quinine-based tonic. Further line extensions are planned. Outlandish beverages, formulated by Eastside's award-winning master distiller, Mel Heim, will include up to 25 milligrams of CBD. Outlandish CBD beverages can be used as a component in uniquely designed drinks limited only by imagination or consumed entirely on their own.
---
Nano Powder 
---
So many things you can be!!! 
Be Chill™Sleepy Time Tincture (THC: Hindu Kush, CBD: hemp source)
Be Better™CBD Full Spectrum Tincture (CBD: hemp source)
Be Better™CBD Extra Strength Tincture (CBD: hemp source)
Be Friendly™PMS Capsules (THC: Cherry Chem)
Be Nimble™Arthritis Capsules (THC: Blue City Diesel)
Be Able™Chronic Pain Capsules (THC: Hindu Purple Kush)
Be Relieved™Analgesic Pain Gel (THC: Hindu Purple Kush, CBD: hemp source)
Be Free™ Pain Balm (THC: Hindu Purple Kush, CBD: hemp source)
Be Loved™Massage Oil (THC: Hindu Purple Kush, CBD: hemp source)

---
That is one badass great-grandma. Giving the camera nothing but Blue Steel, pursed lips, no apologies, ready to rip the entire county a new one. And she will—Burkhalter has hired Benjamin Crump, the high-profile lawyer who represented Trayvon Martin's family. A multimillion-dollar lawsuit is expected to be filed within days. Her gaze at the camera says: I am not wrong. I wish Hester Burkhalter's case was an outlier. Sadly, it's not. The only reason she made the national news is that she was arrested at Disney World. There are plenty of other grandmothers, aunts, uncles, cousins, fathers, mothers, sons, and daughters being arrested for CBD possession who don't have the option of retaining the services of Benjamin Crump.
---
with a hemp program last week when Gov. Brian Kemp signed 
House Bill 213
into law.
---
Scott Salisbury 
Founder of LinkedIn Group CBD Health and Wellness
---
---
---
Ministry of Hemp
---
Knoxville News Sentinel
In late February, the company received a $30 million investment from international cannabis business, SOL Global Investments Corp., to begin a retail hemp brand in late February, and quickly got to work setting up its flagship store on Jackson Avenue. 
---
New Cannabis Ventures
Central Point, Oregon–(Newsfile Corp. – May 14, 2019) – Hemptown Organics Corp. ("Hemptown USA" or the company), a multi-state hemp operation doing business as Hemptown USA, announces the completion of a CAD $23,240,000 round of financing, which closed May 10, 2019. Canaccord Genuity Corp. acted as lead agent on the brokered portion of the financing on behalf of a syndicate of dealers that included Sprott Capital Partners LP, Beacon Securities Ltd., and PI Financial Corp. In concert with existing revenue and capital, the financing enables Hemptown USA to embark on a multi-state expansion; purchase USD$5.5 million worth of Oregon CBD (cannabidiol) seeds; begin the build-out of Hemptown USA's processing and extraction facilities and research team, and initiate planting and harvesting of Hemptown USA's 2019 crop of feminized hemp seeds.
---
Seattle WA Grange Event May 17 2019
Islands' Weekly
---
Cannabis Business Times
Marijuana Company of America will receive an 80-percent return of net profits for the JV on an ongoing basis, as well as a long-term lease on the property with favorable lease terms. The project includes up to 500 usable acres of land in California's Riverside County that has sufficient water and power and is specifically suited for large-scale cultivation. The company is in the process of sourcing the highest quality seeds that will yield a high percentage of CBD with legally compliant low levels of THC. It is projected that each acre will produce 2,500 pounds of hemp biomass. Based on prevailing fair market rates at this time, the biomass can be sold for approximately $35 a pound. If the company processes the biomass as it intends to do, at least in part, the biomass will produce a significantly higher financial return. Additionally, the property is equipped with several large structures that are suitable for the storage and drying of the hemp plants. A highly experienced cultivation team has been engaged to manage the operations and cultivation of the farm.
---
Wisconsin
Starbuds Medical carries more than 31 kinds of hemp flower
, sourced from all over the country. Syrrakos is also a hemp grower and grows the majority of his flowers for his own Starbuds Medical brand in an indoor operation with a packaging facility. "You get a better quality product growing indoors versus outdoors," he explains. "Outdoors, you've got all elements and animals getting at the plants. Indoors, you can control the environment, the pH levels, nutrients and humidity level."
---
Business Insider
---
Inslee's move came nearly a year after Seattle City Attorney Pete Holmes, working with Mayor Jenny Durkan, enacted a plan to clear more than 500 past cannabis convictions within the city's municipal court system. Holmes's plan took months to work its way through the city's judicial system. In September, Seattle Municipal Court judges approved the plan, which would wipe away the cannabis convictions of up to 542 people who were sentenced for offenses between 1996 and 2010. (Seattle stopped prosecuting low-level cannabis offenses after 2010.)
Colorado 
Journal Advocate
The hemp operation will pay its workers about $15 an hour in order to give them a chance to earn enough money to restart their lives when they leave the program. The DOC will pay for food and housing until the workers begin receiving paychecks, and they will then be required to pay for their room and board. That means a savings to the state of about $74 per day per inmate once the workers start paying their own way.
---


U.S. News & World Report
---


Scott Salisbury 
Founder of LinkedIn Group CBD Health and Wellness
The CBD Store carries the Canbiola Brand. 
https://finance.yahoo.com/quote/CANB?p=CANB
Canbiola Appoints David Woycik, Jr. to its Corporate Advisory Board and Completes a 300% Increased Investment in its Duramed Division to Combat the Opioid Crisis
---
Groups Founder Scott Salisbury (23,000) LinkedIn Connections
---
Earlier this month, Mr. Morgan demonstrated and ran trials of the Ennea Process on a certified US grown hemp crop strain. The results, analyzed according to independent industry recognized standards for quantitative analysis (HPLC), confirm full spectrum extraction of all bioactive compounds including all terpenes. On the certified crop trials, Ennea extracted on average 30% higher yields than was previously believed to exist in the cannabinoid group.
---
Cool Kids
---
Yahoo Finance 
(contract signed) Pipeline in place Crude/distillate/Isolate
Future Farm Signs Agreement With Full-Service Hemp Lab and CBD Oil Processing Company
Vancouver, British Columbia, May 14, 2019 (GLOBE NEWSWIRE) -- via NEWMEDIAWIRE -- Future Farm Technologies Inc. (the "Company" or "Future Farm") (
CSE: FFT
) (
OTCQB: FFRMF
) is pleased to announce that it has signed an agreement with 
Northeast Processing
 ("NEP"), a Vermont-based hemp processing company, to process, test and package all of the hemp grown by Future Farm on 100 acres in Maine in 2019. 
VANCOUVER, British Columbia, May 14, 2019 (GLOBE NEWSWIRE) -- 
The Yield Growth Corp. (CSE:BOSS) (OTC:BOSQF) (Frankfurt: YG3)
 has engaged Cornerstone Strategic Branding (CSB) headquartered in New York and whose clients include major international brands -- Perrier, Nestlé, Seagram's and Labatt -- to complete a visual positioning study and subsequent creation of brand and packaging design for its new hemp and cannabis beverage lines.
---
Caribbean
 (even Billionaires can be arrested.) $30,000 was the number Cash
David was released after paying a cash bail of approximately USD$30,000 and is due to make another appearance at Basseterre Magistrate Court on May 14. In the meantime, he must surrender all travel documents in his possession and report daily to the Frigate Bay Police Station.
Caribbean
🚨🚨🚨
Coca-Cola heir arrested in Caribbean after landing on private jet
 with Irish actor Jonathan Rhys Meyers and '$1.3M worth of cannabis hemp' on board 
He and US billionaire Chase Ergen announced back in April that they had formed 
SwissX
, a consortium which specializes in CBD medicines and hopes to develop the legal cannabis market in eastern Caribbean nations such as St Kitts and Nevis, Dominica and Antigua.
Yahoo Finance
TORONTO , May 14, 2019 /CNW/ - SLANG Worldwide Inc. (
CNSX: SLNG
), (
84S.F
), ("
SLANG
" or the "
Company
"), a leading global cannabis consumer packaged goods ("
CPG
") company with a robust portfolio of renowned brands distributed across 2,600 stores in 11 US states, is pleased to announced that it has entered into an agreement to acquire LBA Global Corporation ("
LBA
") and its Lunchbox Alchemy ("
Lunchbox
") brand portfolio and subsidiary Hydra Distribution ("
Hydra
"). The proposed transaction (the "
Transaction
") will bolster SLANG's position in the Pacific Northwest by adding a complementary portfolio of top-selling products in Oregon and California and robust supply chain and distribution capabilities.
---
Vermont (Colorado Clones) 
Goats, ducks, chickens and beef cattle. Diversifying is one way the Barr Farm in South Woodstock has stayed afloat for more than 100 years.
"We are a very diversified farm, so it was one more thing to add to our repertoire," said the farm's Tina Tuckerman. The 5th generation farmer has 100 baby hemp plants that she is getting ready to put in the ground. About 1,500 more clones are on a truck from Colorado that will be delivered to Tuckerman and 16 other hemp farms in the area as part of a newly formed hemp co-op.
---
Michigan (Colorado Clones) 
Monroe Evening News
Since unveiling an Industrial Hemp Ag Pilot Program in April, the state agency said it's received more than 600 applications to commercially grow industrial hemp. In total, 359 growers and 250 processors have applied for a license, with 600 industrial hemp licenses (353 grower licenses and 247 processor licenses) issued out on a temporary basis, according to the Michigan Farm News.
---
Iowa
WBAY
"What this bill doesn't do is legalize marijuana. It also doesn't legalize CBD. What it does do is authorizes the Department of Agriculture to implement an industrial hemp program. That's hemp with a THC level of 0.3 percent or below. There are really specific controls around that," said Naig.
---
Kansas. Clones are from Colorado

Wellington Daily News
Scott Salisbury 
Founder of LinkedIn Group CBD Health and Wellness
Weedmaps News
---
Main 
Yahoo Finance
NEW YORK, May 13, 2019 (GLOBE NEWSWIRE) -- via OTC PR WIRE -- HempAmericana, Inc. (HMPQ) ("HempAmericana" or the "Company") is pleased to announce that it has commenced bottling 500mg and 1000mg full spectrum CBD distillate in the Company's Augusta, Maine laboratory. The inaugural production will be to produce 2000 bottles per day with a gradual increase to 8000 bottles per day to fill the demand.  The CBD distillate will be distributed under HMPQ's proprietary brand, "Weed Got Oil".
---
Yahoo Finance
Yahoo Finance
---
---
Proactive Investors USA & Canada
"We are pleased to support Dr. Klein and the launch of the Dr. Klein CBD brand of pharma-grade CBD topicals and infused bathing products," CEO Meris Kolt said. "These products will be laboratory tested prior to sales. We look forward to launching the Dr. Klein brand into Europe, South America and into Canada when regulation allows in the fall of 2019." 
Klein has been the chiropractor for Florida Atlantic University for 15 years and serves on the board of the Florida Chiropractic Association. He earned his doctorate from the National College of Chiropractic in Lombard, Illinois. 
Redfund Capital provides debt and equity funding to companies in the medical cannabis community. The company will own an equity stake in Dr. Klein CBD.
---
---
Scott Salisbury 
Founder of LinkedIn Group CBD Health and Wellness
50 million each 
Yahoo Finance
The joint venture will see each company invest $50 million to research drinks infused with THC or CBD. THC is the compound that generates psychoactive effects. CBD doesn't have those properties, but some believe it has health benefits. 
"On May 1, we'll have a building that's about 197,000 square feet and we'll then be able to house five bottling lines. About three or four months after May 1, the lines will be running and they'll be producing beverages," 
Canopy Growth CEO Bruce Linton told Yahoo Finance in February
.
---
The UK "from across the pond" 
Brighton and Hove News
Georgia 
To clarify, Georgia Agriculture Commissioner Gary W. Black issued a press release on Friday to Georgians explaining that while the signing into law of 
HB213
 allows for the sale of hemp and hemp products, 
inclusion of cannabidiol oil (CBD) into a food or dietary supplement is still unlawful according to the Federal Food and Drug Administration (FDA) regulations.
---
The CBD Store signs Ganja... Coming Soon
#1
-Made from full-spectrum oil
HydraZorb solubility video (Nano Powder)
 

Video

 

COA $5,000 per kilo
---
#2 
Have THC Free Distillate full spectrum 94% CBD $6750/liter 100 on the ground 50/week contract available  
$4500/kg Isolate we have overflow! 🙀
---
#3
How about this??? 68% Winterized, Decarbed Crude. 300 KGs on the ground ready to go now. $1500 per. May include some commission to one broker. Several interested, but no wires yet. Lab has room for 125 KGs per week and will do a contract at the same price.
---

#4
💲💲😍😍😡😡Zev is a cruel individual. He sends me a picture yet no pricing. "Who does that"
The CBD Store (wholesale) 
---
---
LINKEDIN GROUP MEMBERSHIP
Groups Founder Scott Salisbury (23,000) LinkedIn Connections
---
Oregon 
East Oregonian
Cleaver grew 400 acres of hemp last year to be processed elsewhere and planted more than 1,500 acres this year. Currently, he said, most operations can process between 1,000 and 2,000 pounds per day. Columbia Basin Extraction will be able to handle about 40,000 with room to grow.
Georgia (hemp is legal in Georgia)
Valdosta Daily Times
---
Kentucky 
messenger-inquirer
So far, the company has partnered with more than 140 growers, but executives expect that number to double by 2020.
---
West Virginia 
Lancaster Farming
CHARLESTON, W.Va. — For the 2019 growing season, the West Virginia Department of Agriculture issued 158 individual licenses under the industrial hemp program. This included 71 applicants who marked processing as part of their submission. The proposed total acreage to be grown by licensees is 2,531.
---
Yahoo Finance (NEW Brand)
High-quality CBD pet drops and soft-baked bites support a pet's overall health 
WAKEFIELD, Mass. , May 10, 2019 /CNW/ -- Curaleaf Holdings, Inc. (CURA.CN) (CURLF) ("Curaleaf"), a leading vertically integrated cannabis operator in the United States , today announced the launch of Bido, hemp-based CBD products for pets. CBD is a non-intoxicating, non-psychoactive compound from the cannabis sativa plant. CBD has been shown in initial third-party studies to support a pet's overall wellness including the potential to help manage pain and anxiety. Bido pet drops come in three varieties, bacon, salmon and unflavored "pure," and Bido soft-baked bites are available in apple chicken, peanut butter bacon, and honey sweet potato. All Bido products can be purchased online at www.curaleafhemp.com.  
Yahoo Finance ( New Brand)
---
Yahoo Finance


Follow Benzinga Cannabis (@BZCannabis) on Twitter for up-to-date news and stories on cannabis, hemp and CBD.
Marijuana Stocks & ETFs
Over the last five trading days:
• The Horizons Marijuana Life Sciences Index ETF (OTC: HMLSF) (TSE:HMMJ) lost 0.65 percent.
• The ETFMG Alternative Harvest ETF (NYSE: MJ) gained 0.34 percent.
• The AdvisorShares Pure Cannabis ETF (NYSE: YOLO) lost 2.18 percent.
• The SPDR S&P 500 ETF Trust (NYSE: SPY) closed the period up 0.21 percent.
Top marijuana stocks (with a market cap above $500 million) trading on U.S. exchanges performed as follows over the last five trading days: 
• Acreage Holdings (OTC: ACRZF): down 0.45 percent
• Aphria Inc (NYSE: APHA): down 8.1 percent
• Aurora Cannabis Inc (NYSE: ACB): down 2.8 percent
• CannTrust Holdings Inc (NYSE: CTST): down 17.1 percent
• Canopy Growth Corp (NYSE: CGC): down 1.7 percent
• Cronos Group Inc. (NASDAQ: CRON): down 3.4 percent
• Curaleaf Holdings Inc (OTC: CURLF): up 4.8 percent
• Green Growth Brands Inc (OTC: GGBXF): up 15.2 percent
• Green Organic Dutchman Holdings Ltd (OTC: TGODF): up 3.5 percent
• Green Thumb Industries Inc (OTC: GTBIF): down 9.5 percent
• GW Pharmaceuticals PLC- ADR (NASDAQ: GWPH): up 4.9 percent
• Hexo Corp (NYSE: HEXO): down 1 percent
• Harvest Health & Recreation Inc (OTC: HRVSF): down 11.9 percent
• iAnthus Capital Holdings Inc (OTC: ITHUF): down 2.9 percent
• Marimed Inc (OTC: MRMD): down 6.9 percent
• MedMen Enterprises Inc. (OTC: MMNFF): down 4 percent
• OrganiGram Holdings Inc (OTC: OGRMF): up 11.3 percent
• Scotts Miracle-Gro Co (NYSE: SMG): up 11.45 percent
• Tilray Inc (NASDAQ: TLRY): down 5.5 percent
---
---
Scott Salisbury 
Founder of LinkedIn Group CBD Health and Wellness
First Quarter 2019 Preliminary Financial Highlights (Approximate)
Organic consolidated revenue of $21M – $22M
50% from e-commerce sales
Gross Margin in a range of 70% to 75%
Adjusted EBITDA¹ between $4.0M to $4.5M, or approximately 20%
Net Income between $2.0-$2.5M
Retail doors have surpassed 6,000 at May 8, 2019
Doubling hemp acreage planting for 2019
Tennesse 
The T.D.A. numbers show the number of hemp growers has grown 12-fold from 2018 to more than
 2,700 
licenses in 2019.
---
KLAMATH, California Hemp Farming YES! 
The Yurok Tribe is currently the largest Tribe in California, with more than 5,000 enrolled members. The Tribe provides numerous services to the local community and membership with its more than 200 employees. The Tribe's major initiatives include: the Hoopa-Yurok Settlement Act, dam removal, natural resources protection, sustainable economic development enterprises and land acquisition.
---
Illinois
SPRINGFIELD, Ill. — Over 350 growers and processors of industrial hemp submitted applications during the first couple days the Illinois Department of Agriculture began the process. The application process was initiated at 9 a.m. on April 30, and the following day, the department had received 295 requests from growers and 74 from processors.
---
Yahoo Finance
Shakeups Continue with CBD/Hemp Related Payment Processing
COLORADO SPRINGS, Colo., May 10, 2019 /PRNewswire/ -- Merchant processor Fortress Payment Technologies recently notified all their e-Commerce customers selling CBD products that they would no longer be able to process Visa payments through their bank. Some of their merchants received less than eight hours of notice of these changes.  This trend has been especially troubling and disruptive to the CBD/Hemp related businesses who have struggled to maintain access to consistent banking services.
Yahoo Finance
Scott Salisbury 
Founder of LinkedIn Group CBD Health and Wellness