The FDA has only approved one 
CBD-based prescription medication
for humans, which is used to treat rare forms of epilepsy. FDA spokesperson Lindsay Haake told NBC News BETTER that "the FDA has placed no restrictions on extra-label use of 
Epidiolex
(cannabidiol) in animals. Veterinarians must follow the principles discussed in the Animal Medicinal Drug Use Clarification Act (AMDUCA), as well as any state and federal regulations for the handling of the drug."
---
North Carolina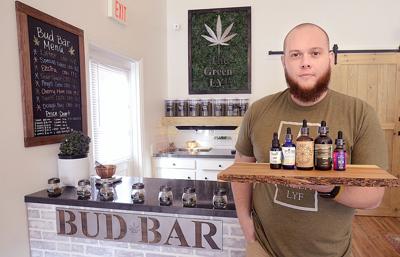 Hickory Daily Record
---
---
Impartial Reporter
---
NewYork
NY1
DOH inspectors started cracking down on businesses last month. The Fat Cat Kitchen was one of 5 that were hit with an embargo. A health inspector recently placed the restaurant's CBD goods in a plastic bag and told the owner to stop selling them.
CBD RICE CRISPY FRUITY PEBBLES TREAT Infused with 15 mg Pure CBD. Who has ideas for a name for this baby!??
---
Health Department Embargoes CBD Products at City's Restaurants and Bars
💲💲💲💲Request 
LinkedIn...Hi Scott, I have a makeup company and my next step is to incorporate CBD into my formulas, and I'd like to educate myself of the industry in this group. Do you personally have any suggestions to who I should connect with regarding the next steps?
💲🌿Requests... 
Cosmetics & Beauty reached out in LinkedIn. They are looking for assistance in building a CBD Brand. 
Contact Scott Salisbury scott.salisbury@CBDStore.co 
---
💲💲💲💲Request 
Looking for CBD gummies 13 to 15 cents a piece 30 ct in a white label 500 mg

ttl

 
10k order Amazon in Ukraine
Contact Scott Salisbury scott.salisbury@CBDStore.co 
---
Montana
Ian Foley, the department's hemp program coordinator, said the pilot program started with 14 growers and 525 acres cultivated. Last year, it had grown to 58 growers and nearly 22,000 acres, mostly in northeastern Montana and the Golden Triangle. This year, 70 growers have already applied.
---
Montana
Great Falls Tribune
Paul Leach of Venture Property Leasing LLC is applying for a special-use permit from the Cascade County Zoning Board of Adjustment to operate a value-added agricultural commodity processing facility that would process CBD oil from hemp.
---
Kentucky
Hemp fields in the U.S. state of Kentucky could nearly triple this year as state agriculture officials say they have approved applications to grow up to 42,000 acres of the crop in 2019, up from 16,000 acres last year. Farmers do not always take full advantage of their hemp farming allotments, however. For example, last year only about 6,700 acres of the 16,000 approved went under hemp.
---
Scott Salisbury 
Scott.Salisbury@CBDStore.co  253 221 9051
Founder (🎪The CBD Store and 🎪Hemp Extracts) 
Founder LinkedIn Group CBD Health and Wellness